Discover more from PATH NINE
Charting a new path for the people, places, and practices in the future of work.
New Formations
Optimizing the built environment.
Hi Everyone,
I hope you've had a splendid week. In the midst of the summer sun, I find myself spending significantly more time walking and exploring outside. During these walks, I'm mostly managing my 105# BMD, but in the spare moments between, my mind wanders. Most recently, I've started thinking about the evolution of cities.
I'm fortunate to live in Seattle, where the fast-paced growth of large tech companies fuels a shifting infrastructure and physical environment. However, this raises more questions about the future of the built environment. Questions about how the infrastructure of modern cities works for and against our optimal human interactions and behaviors. Are cities like Seattle outpacing our ability to adapt to the new environment? Devon Zuegel's article titled We Should Be Building Cities for People, Not Cars does a great job articulating a few indicators of this challenge.
In this modern age, our cities—and our image of the needs of their inhabitants—must evolve at a pace we're not accustomed to, and therefore not prepared to support. To better understand this area, I've started writing and exploring this intersection of new technology and the urban environment. For this week, I'd encourage those of you in big cities to think about the ways in which you can optimize your physical environment and therefore improve your life.
For now, get outside and enjoy your surroundings!
— Kevin K.
---
Weekly Reading
"The past three decades have been marked by a growing division of labor between universities focusing on research and large corporations focusing on development. Knowledge produced by universities is not often in a form that can be readily digested and turned into new goods and services. Small firms and university technology transfer offices cannot fully substitute for corporate research, which had integrated multiple disciplines at the scale required to solve significant technical problems. Therefore, whereas the division of innovative labor may have raised the volume of science by universities, t has also slowed, at least for a period of time, the transformation of that knowledge into novel products and processes."
#tech
Virgil Abloh has adapted the designs of Jean Prouvé and the Eames' to create his vision of the home of the future, which is installed in the Zaha Hadid-designed fire station at the Vitra Campus. His vision includes a seesaw made out of Charles and Ray Eames' Wire Chairs and a storage cabinet with bricks for shelves.
"To me, design always has the inherent idea of being a bridge from the past, with an eye towards the future," — Virgil Abloh
#culture
"We all knew that relying on the boss's genius was a risky strategy.  The bad news is that empowered employees aren't necessarily that much wiser. But there was also good news: although the crowd coming up with an idea will likely overvalue it, that overvaluation becomes less likely if the ideators take some distance from the process of generating it."
#futureofwork
---
Inspiration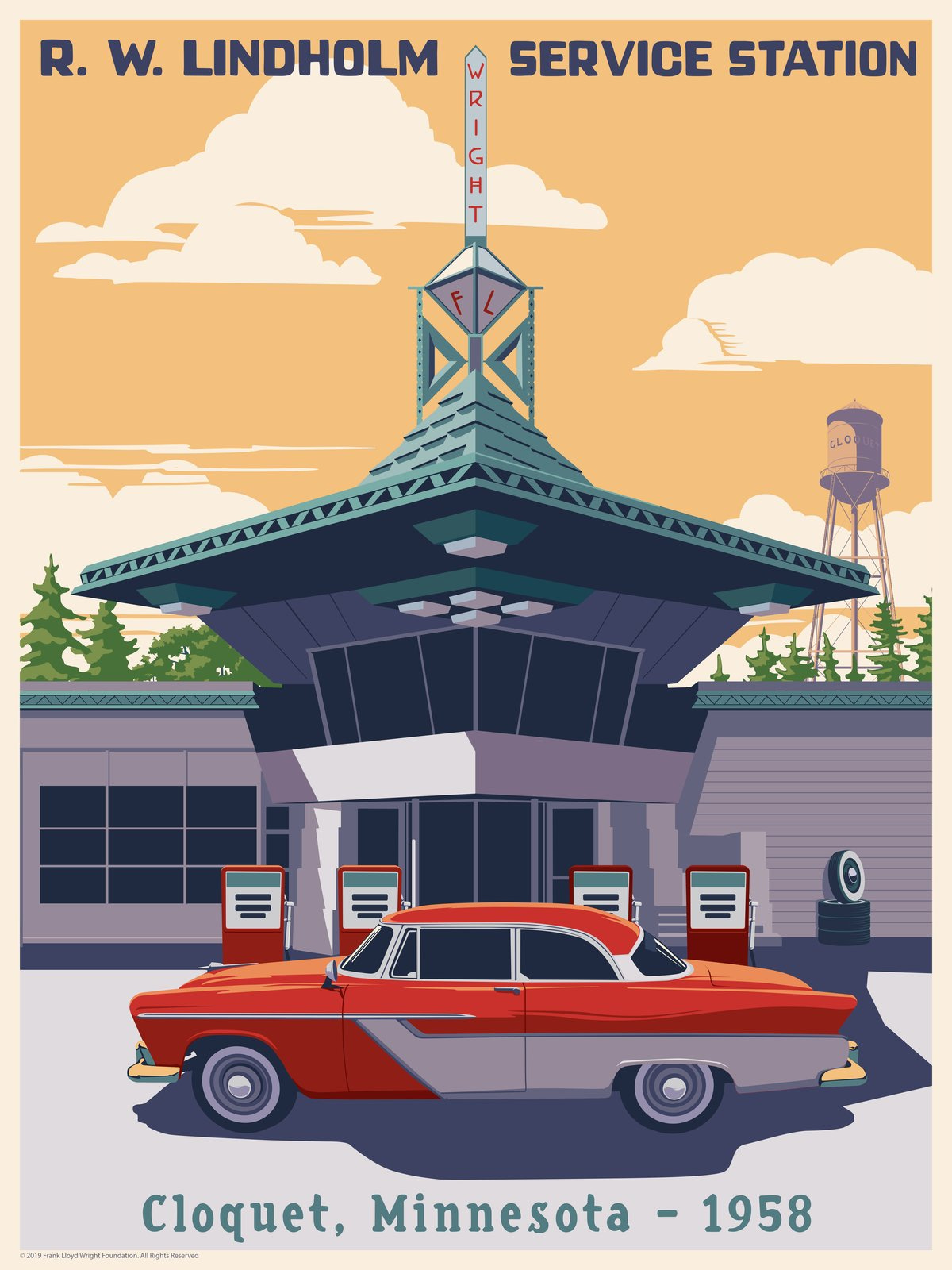 Artist Steve Thomas chose to depict Wright's only gas station, originally designed for his utopian Broadacre City.
"One of Wright's principles was this idea of democratizing beauty," says Goodman. "He really felt that beauty should be accessible to all people regardless of their wealth or income. We want these beautiful posters to not be exclusive to people who can afford what is considered great art—we want to make great art and make it accessible to everyone."
As a lifelong Frank Lloyd Wright fan, this really caught my eye. Spoke Art gallery, invited artists to depict Wright-designed buildings using 1930s-era Works Progress Administration travel posters as inspiration. The romanticism of the 1950s juxtaposed against a contemporary inspiration is such an amazing reflection on FLW himself.
---
Weekly Challenge
Swap your daily news feed for 20 minutes of fun reading.
Coming soon
Last week I mentioned an upcoming post on Small Businesses. I've made a few adjustments and plan to release this as a series. The change has inevitably added a bit to the timeline, but I'm targeting the first release next week; hold me to it!
Enjoy this issue? Share it!